Window Treatments from Graber
For nearly eight decades, the Graber name has been synonymous with innovation, style, and creative inspiration for window treatments. With thousands of possibilities available by design, made to your specifications, you'll never have to worry about compromising your family's safety in the name of good taste. Custom Floors Carpet One is proud to be your local source for Graber blinds, shutters, shades, drapes, and much, much more. With Graber window treatments, it's easy to bring your home's unique design to the next level.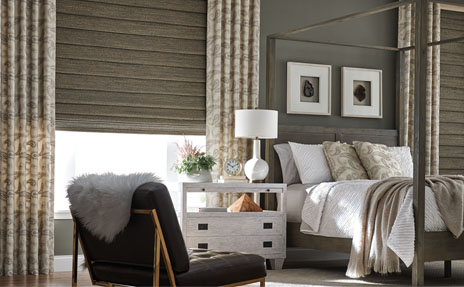 Why Choose Graber?
Window treatments are one way to make your home more energy efficient. Graber has made this a priority and makes sure their entire window treatment collection features an energy efficient design. This design helps against window drafts, distracting glare, and UV damage caused by harsh sunlight. Graber is also conscious of the environment and uses earth-friendly recycling, conservation, sourcing, packaging, and forestry practices.
Window treatments are more than just another home accessory. They serve a purpose and a function in your home. Primarily, window treatments provide privacy from the outside looking in. They also help you regulate and control the natural light you allow into your home. They also protect your floors and furniture from fading. When these are exposed to sunlight for long periods of time, they can become faded and need to be placed sooner and more frequent, however window treatments help slow down or even prevent fading. Many products are designed to make your life easier with motorization. Motorized blinds and shades can be set to a schedule and all you have to do is press a button.
Be sure to visit our Sarnia showroom to take advantage of our selection of window treatments